24.02.2020 15:37

National Anti-Corruption Bureau of Ukraine head Artem Sytnyk speaks with the Kyiv Post on Feb. 18, 2020. Under pressure for alternatively doing too much and too little, Sytnyk explained the frustrations of his job and why Ukrainians get so little justice for the crimes committed against them.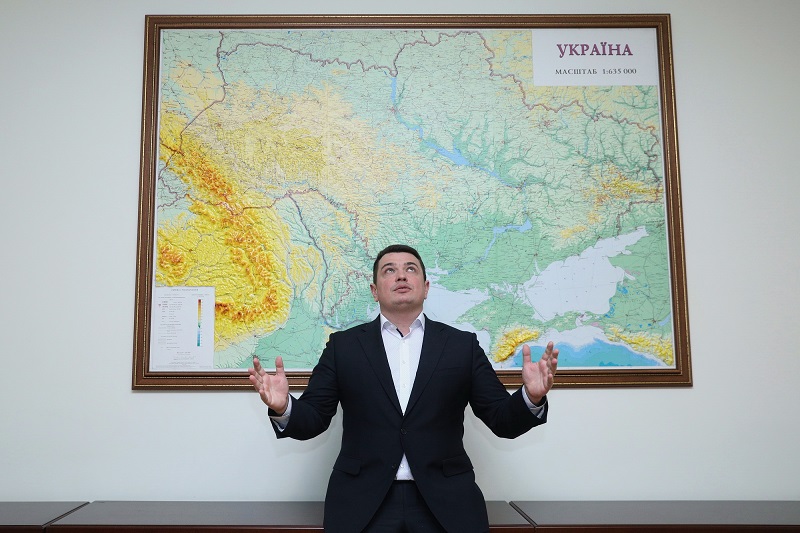 Artem Sytnyk has few friends and many enemies. On the morning of Feb. 18, representatives of those enemies turned out in force at the office of the National Anti-Corruption Bureau of Ukraine, which Sytnyk leads. The demonstrators — many of them pensioners — were demanding Sytnyk's ouster for corruption. A semi-trailer plastered with anti-Sytnyk slogans and images had been parked across the street for two days. Like the demonstrators, it painted the top graft investigator as a corrupt official with a taste for expensive whiskey and big bribes.
In Western capitals, Sytnyk is seen as Ukraine's best fighter against corruption. At home, however, he faces an intense campaign to drive him from office. Backed by powerful political figures, it may soon succeed.
However, the reality of Sytnyk's tenure hardly fits either narrative.
Since he came to office in 2015, NABU has not investigated a case that ended in the conviction of any prominent corrupt official, let alone a prison sentence. And Sytnyk doesn't really brag much: He says his biggest accomplishment is getting big cases opened for investiation.
Sytnyk places the blame for the campaign to drive him from office on his two most powerful enemies: billionaire oligarch Ihor Kolomoisky and Interior Minister Arsen Avakov. Both appear to hold a grudge against his agency for investigations that targeted them, their companies or their families.
And if they succeed in removing him, he predicts a dim future for NABU, one of the new anti-corruption institutions that came into being after the EuroMaidan Revolution ousted the Kremlin-backed kleptocratic President Viktor Yanukovych in 2014.
"It's not just an attempt to take me down, personally. It's an attempt to take down an institution that brought a lot of trouble to dishonest people," he says. "They don't want there to be an agency that isn't under anyone's control."
Anti-corruption hope
Born in a small town in central Ukraine, Sytnyk graduated from the country's top state law school in 2001. For the next decade, he worked as an investigator in prosecutors' offices both in his home region and in Kyiv.
Sytnyk was working as managing partner at a Kyiv law firm in 2015 when he was chosen to lead NABU through an open contest.
In the post-Yanukovych era, the country's new leadership pinned its hopes on Europe. Battling corruption was a key requirement for greater integration with the European Union.
Since then, Ukraine has created multiple anti-corruption offices, but its efforts against graft look better on paper than in practice.
Of the country's three anti-corruption agencies, only NABU enjoys anything of a positive reputation. The Special Anti-Corruption Prosecution, or SAP, has been implicated in corrupt practices itself and the National Agency for the Prevention of Corruption has largely failed at its only task, checking state officials' asset declarations.
In April 2019, Ukraine finally created its High Anti-Corruption Court after years of politically motivated delays. So far, however, it has yet to demonstrate serious results.
To make matters worse, NABU has struggled to work with agencies that should be its partners.
In April 2018, it released audio recordings from a wiretap of Special Anti-Corruption Prosecutor Nazar Kholodnytsky's office. They appeared to reveal the prosecutor colluding with officials accused of corruption and attempting to derail graft cases.
Kholodnytsky confirmed the recordings were real, but said they had been taken out of context. Despite the scandal, he still managed to hold onto his job.
NABU's involvement damaged relations between the two anti-corruption agencies. In September 2018, the reported discovery of another listening device in SAP's office led to a physical altercation between employees of the two agencies that left one man in the hospital with a broken arm.
In Ukraine's legal system, NABU needs SAP to sign off on notices of suspicion for corrupt officials. When the charges are against lawmakers, it needs the signature of Ukraine's prosecutor general. Both Kholodnytsky and former Prosecutor General Yuriy Lutsenko blocked charges issued by NABU, Sytnyk says.
In fact, the overall situation for NABU was poor under ex-President Petro Poroshenko. The agency was "surrounded by elites that tried to stop us," Sytnyk told the Kyiv Post.
"They were trying to push through the parliament initiatives that were intended to stop us or limit our powers. It was grueling."
Limited progress
Life has improved since then. The long delay in creating the anti-corruption court ended in April 2019.
That same month, the country elected a new president, Volodymyr Zelensky, who promised to annihilate corruption as president. In July, the country voted in a parliament dominated by his Servant of the People party.
Now, Lutsenko is gone, replaced by Ruslan Riaboshapka, whose candidacy for prosecutor general received strong support from anti-corruption organizations.
Kholodnytsky remains in office, but Sytnyk has found a way to cooperate with the prosecutor.
"Our relationship with the anti-corruption prosecutor changed, we reached a working contact," Sytnyk told the Kyiv Post. "The dynamic of our cooperation is positive now and we're happy about it."
As a result, the pace of NABU's work has picked up. In the second half of 2019, the agency delivered notices of suspicion every three days on average, according to Sytnyk.
"Now the ball is in the Anti-Corruption Court's court," he says.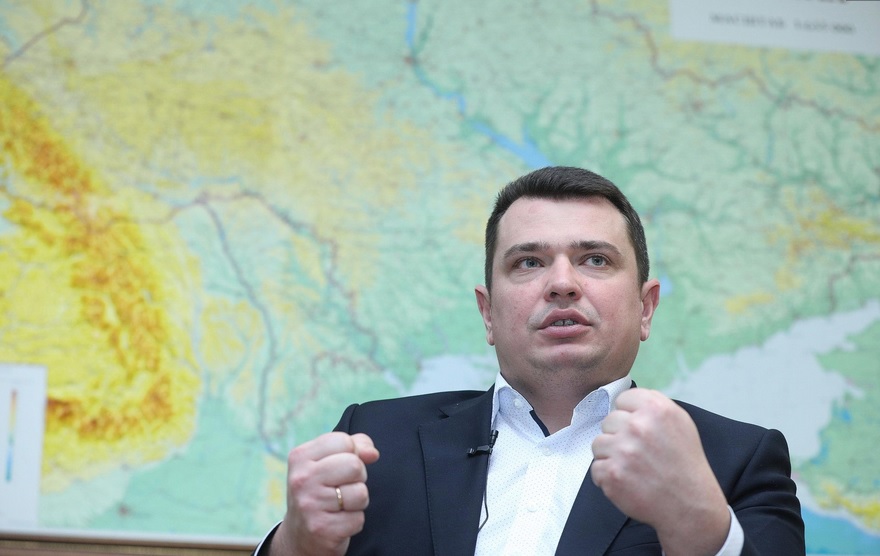 But despite those improvements, NABU is far from a success. It has 677 employees, of whom 240 are detectives, and a large office. Its employees enjoy high salaries intended to deter them from seeking bribes and kickbacks.
But the results leave much to be desired. As of the end of 2019, NABU cases have delivered only 32 guilty verdicts. The agency has 892 ongoing investigations.
Still in the works are several enormous investigations.
Among the biggest is PrivatBank, Ukraine's largest financial institution, which was nationalized in 2016 after authorities discovered a $5.5 billion hole in its ledgers. Ukrainian authorities accuse the bank's former owners, oligarchs Kolomoisky and Gennadiy Boholyubov, of stealing the money, something they deny.
NABU is also working on the case of Rotterdam+, a pricing formula that allegedly jacked up the cost of coal and benefited the top billionaire oligarch, Rinat Akhmetov, who controls 90% of Ukraine's coal mining industry. Sytnyk says his agency is close to concluding its work on this case.
Still, there has not been a single bold verdict that could send a message to the public that Ukraine is succeeding in the battle with corruption. Asked to name the most significant outcome of a case investigated by his agency, Sytnyk says all the important verdicts are a matter of the future.
He suggests that this is the nature of big cases. Both PrivatBank and Rotterdam+ require the agency to review a huge number of transactions. NABU must also get expert evaluations for parts of the cases, a complicated task that takes a lot of time.
Still, Sytnyk admits the lack of obvious victories is a problem.
"Society doesn't have a feeling of justice," he says, adding that it has also "demotivated our detectives."
In some cases, that demotivation also extends to civil society. Vitaly Tytych, the former coordinator of the Public Integrity Council watchdog and a lawyer for EuroMaidan protesters, is skeptical of Sytnyk's performance.
"Instead of fulfilling the bureau's main function — going after the highest-ranking officials and billion-dollar corruption, Sytnyk has mostly targeted lower-level bureaucrats and smaller schemes," he said.
According to him, Sytnyk adapted both to Poroshenko and his successor, Zelensky. He avoided going after Poroshenko and his inner circle and is not prosecuting the corruption of Zelensky's associates, he argued.
Others disagree. Despite showing limited results, the NABU chief still enjoys an excellent reputation among Ukrainian civil society and reformers, which spills over to the country's Western partners.
"Some critics say he's no angel and that NABU's cases are sloppy and won't hold up in court, but as a leader, he has integrity and is actively trying to fix Ukraine's broken law enforcement system," says Melinda Haring, deputy director of the Atlantic Council's Eurasia Center.
Tytych attributes Sytnyk's relatively good reputation mostly to the fact that he "maneuvered between presidents, civil society and the U. S. Embassy" and tried to curry favor with all of them.
Takedown
While opinions about Sytnyk differ, there's no doubt that his efforts have earned him a cadre of powerful enemies. Now, they appear to be teaming up to take him down.
More than 150 lawmakers signed a petition to have Sytnyk fired — enough for the Verkhovna Rada to review it. However, it's unlikely to happen soon: The parliament is currently reviewing its contentious land reform bill, a process that is expected to take weeks.
Meanwhile, protests against Sytnyk take place daily near the NABU office, Cabinet of Ministers and other top offices.
Protesters demand the removal of Artem Sytnyk, National Anti-Corruption Bureau chief, on Oct. 3, 2018 outside the parliament committee building in Kyiv. Such protests continue to this day.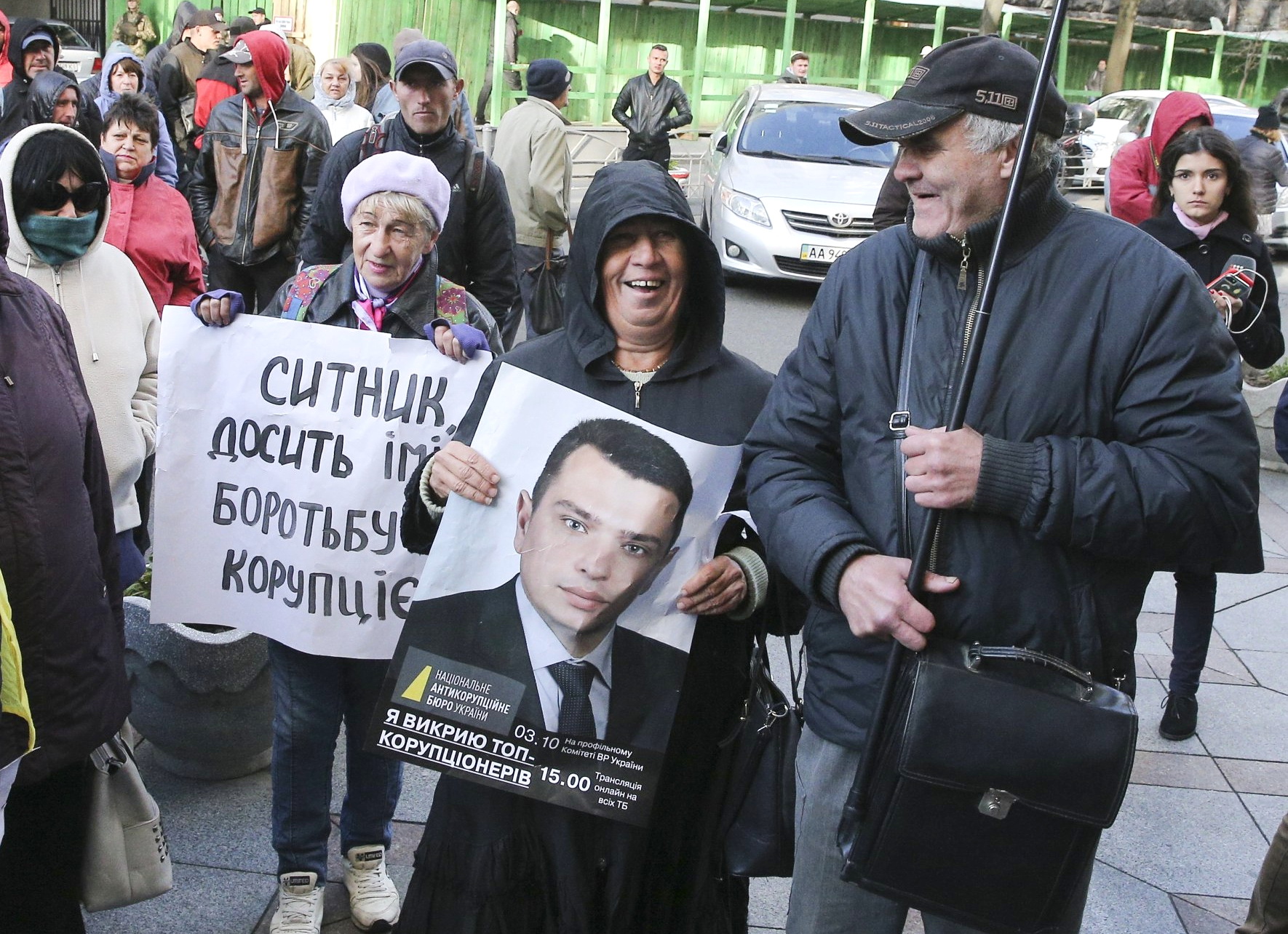 The protesters allege that Sytnyk is corrupt. Their core argument is that a court found him guilty of "receiving an unlawful benefit," a misdemeanor, in September, after an acquaintance testified that he paid some Hr 25,000 for Sytnyk's vacations in 2018 and 2019.
Sytnyk says he returned the money in cash. He is planning to challenge the ruling in the European Court of Human Rights.
He believes the protests actually have little to do with the vacation scandal. Rather, Kolomoisky and Avakov are leading a drive to oust him.
"They joined forces," he says.
Kolomoisky is waging an international legal battle to retake control of PrivatBank, and lawmakers with ties to him are spearheading the campaign against Sytnyk in parliament.
"Kolomoisky knows we're moving forward in the PrivatBank case and he wants to stop it at any cost," Sytnyk said.
When the Kyiv Post asked him about the accusations, Kolomoisky answered: "I learned (this) about myself from the press."
Interior Minister Arsen Avakov is also reportedly seeking revenge, according to Sytnyk. In 2018, his son, his deputy and an alleged mediator were accused of embezzling Hr 14 million by supplying backpacks to the Interior Ministry at inflated prices.
Sytnyk's agency investigated the case. While both Avakov's son and deputy escaped prosecution, the interior minister appears to be holding a grudge. Avakov denies that and says he is against Sytnyk "because he is corrupt."
Beside the "alliance of Kolomoisky and Avakov," Sytnyk also alleges that billionaire businessman Oleg Bakhmatyuk is involved in organizing protests against him.
Indeed, on Jan. 19, roughly 6,000 employees of Bakhmatyuk's UkrLandFarming agroholding came out to demand Sytnyk's firing outside the Verkhovna Rada, the DS News outlet reported.
A British communications firm also sent out emails to Western journalists in English informing them about the protest — a fairly clear sign that its organizers command significant financial resources.
Bakhmatyuk is suspected of embezzling a stabilization loan granted by the central bank for his now defunct VAB Bank. Under the Poroshenko administration, the case was handed to the police, who closed it, Sytnyk told the Kyiv Post.
Now, under Zelensky, it has been reopened.
Bakhmatyuk has denied the accusations of embezzlement. He didn't answer the Kyiv Post's request for comment on the campaign against Sytnyk.
Meanwhile, efforts to remove Sytnyk appear to be gaining traction.
Among the lawmakers who signed a petition to fire him are several close to Zelensky and his administration: press secretaries Olga Rudenko, Tetiana Tsyba and Yevhenia Kravchuk, who have worked for Zelensky and his party; Mykola Tyshchenko, a close friend of Andriy Yermak, Zelensky's chief of staff; and Oleksandr Ustenko, son of Zelensky's advisor Oleg Ustenko.
Their support for the petition suggests the president himself could be looking to fire the NABU chief.
Zelensky hasn't publicly commented on NABU's performance. In May 2019, after the election, he told Sytnyk and Kholodnytsky that he wanted to see significant results from their work within three months, according to his press service.
But Sytnyk doesn't remember it the same way.
"It was said that we would assess (our work) in three months… But what exactly was meant by this, I didn't completely understand," he said.
At the same time, Sytnyk admits that the bureau's work sped up after the meeting. The new administration removed obstacles that previously stymied their efforts: It gave the green light to international cooperation, allowed wiretapping suspects without going through the Security Service of Ukraine, returned cases that were handed to other agencies to NABU and mended the relationship between investigators and prosecutors.
"What hadn't been done in four years was done in several weeks," says Sytnyk.
Now Sytnyk's future, and the future of the agency, is about to be decided in the parliament.
Technically, the Verkhovna Rada doesn't have grounds to fire Sytnyk under the law, which outlines clear criteria for such a move. However, the lawmakers are about to try to ram the vote through the parliament anyway. If they succeed, it will be up to Zelensky to decide whether to sign it.
"If this is passed, it will be illegal and a political decision, and meaningless from the point of view of the law," says Sytnyk. "After that, you can't count on the next head of NABU to be neutral. No normal person will take this job."
Photos by Kostyantyn Chernichkin
Artem Sytnyk has few friends and many enemies. On the morning of Feb. 18, representatives of those enemies turned out in force at the office of the National Anti-Corruption Bureau of Ukraine, which Sytnyk leads. The demonstrators — many of them pensioners — were demanding Sytnyk's ouster for corruption. A semi-trailer plastered with anti-Sytnyk slogans and images had been parked across the street for two days. Like the demonstrators, it painted the top graft investigator as a corrupt official with a taste for expensive whiskey and big bribes.