NABU, SAPO expose UAH 62 million procurement scheme, top officials among suspects (SСHEME)
On Aug. 23, 2023, NABU and SAPO exposed misappropriation worth UAH 62.5 million during Ukrzaliznytsia's (Ukrainian Railways) procurement of food supplies for the population in a state of war. Former and current high-ranking officials are involved in orchestrating the scheme.
Episode 1. LLC 1
In March 2022, due to the full-scale invasion by the russian federation, a need emerged to procure food products to meet the urgent needs of the country under wartime conditions. The first deputy minister of agrarian policy and food implemented a scheme that involved the purchase of products for regional military administrations at inflated prices from a selected company (LLC 1), at Ukrzaliznytsia's expense. This company then procured products at market prices from a foreign manufacturer (Poland) through a controlled intermediary firm linked by family ties to the head of LLC 1, while the cost per kilogram of products was artificially increased by approximately 150% (from UAH 30 to UAH 75). The high-ranking official, abusing power and his position, secured the approval of the relevant payment invoices and work completion certificates and the transfer of funds to LLC 1's account. He was aware of the actual market value of the products, as he regularly received relevant data from the state statistical service. He also knew about the possibility of purchasing products from Ukrainian manufacturers but deliberately ignored this fact.
As a result of such actions, from March to August 2022, Ukrzaliznytsia overpaid LLC 1 more than UAH 28.8 million (including VAT).
Episode 2. LLC 2
During the same period, a similar scheme took place involving the same high-ranking official. Food products for the country's needs were procured at inflated prices from another controlled company (LLC 2). This company, through its intermediary firm, purchased products from a foreign manufacturer (Turkey) at market prices. Similar to the first episode, price inflation occurred during the sale of products from one controlled company to another, and the cost per kilogram increased by nearly 100 percent (from UAH 30 to UAH 55). To ensure the procurement of products from LLC 2, along with the first deputy minister of agrarian policy and food, the then deputy minister of economics was also involved. He in particular concealed information about more favorable proposals from other market participants, including Ukrainian manufacturers.
From March to August 2022, Ukrzaliznytsia overpaid companies participating in the scheme UAH 33.7 million. Having been received, the funds were transferred to a foreign company with signs of fictitiousness for further legalization.
Draft records outlining the distribution of the ill-gotten gains were discovered during a search at a scheme participant's place.
In the above episodes of criminal activity, Ukrzaliznytsia incurred losses of UAH 62.5 million.
As of now, two persons have been notified of suspicion:
the first deputy minister of agrarian policy and food - Article 364, Part 2 of the Criminal Code of Ukraine;
the former deputy minister of economics - Article 27, Part 5 and Article 364, Part 2 of the Criminal Code of Ukraine.
The investigation is ongoing, other potential participants in the crime are being identified.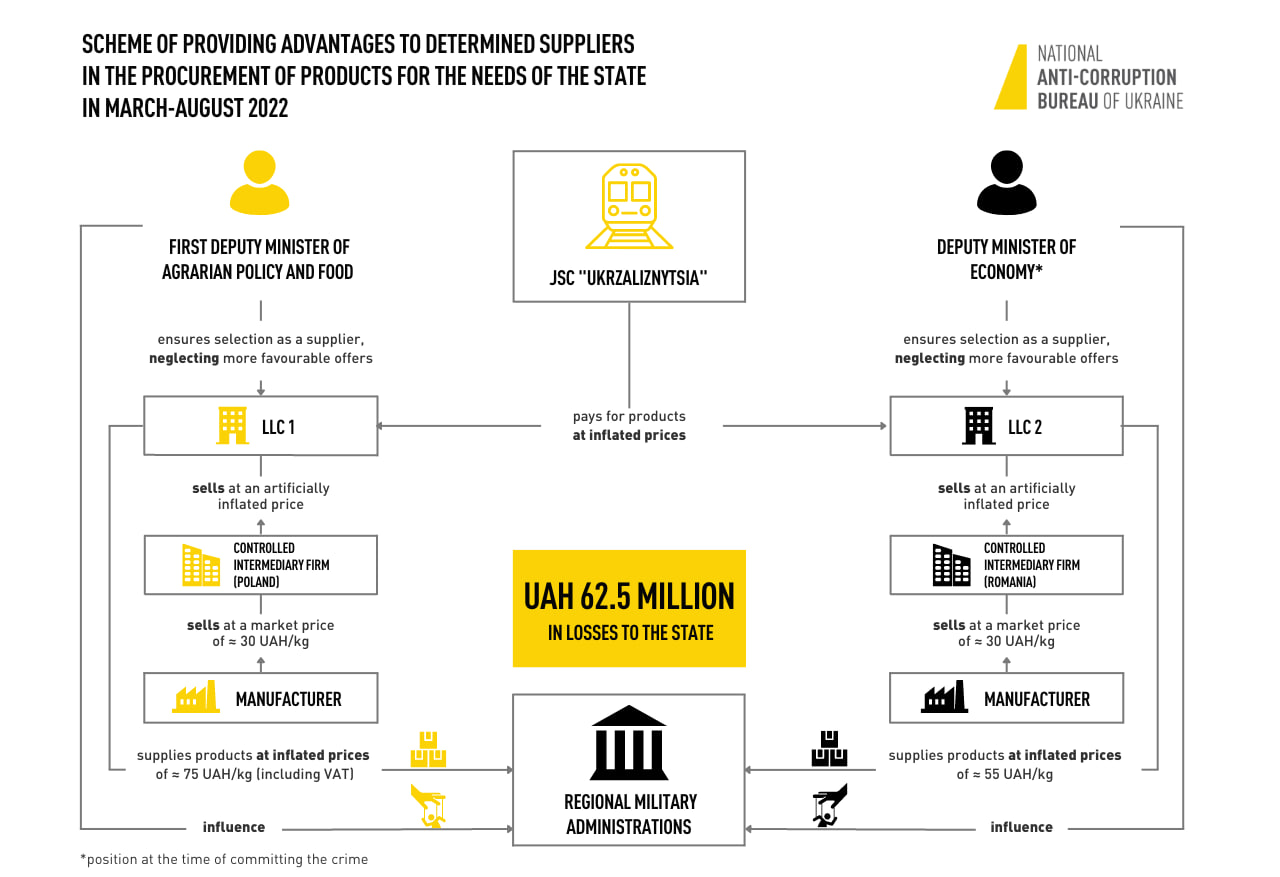 According to Article 62 of the Constitution of Ukraine, a person is considered not-guilty in the commission of a crime and cannot be subject to criminal punishment until he or she is found guilty by court.